Rain gutters are designed to channel precipitation runoff water from the roof to a spot on the ground away from the foundation. Most standard gutters can handle rainfall amounts that are average or even slightly above average. But what about for homes that are located in really wet climates?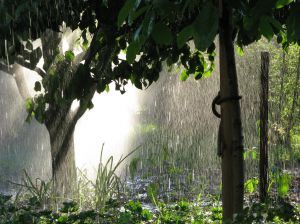 First, let's discuss the wettest areas in the United States:
Hawaiian mountains. Two peaks in America's 50th state — Mt. Waialeale on the island of Kauai and Mountain View on the Big Island — are officially the rainiest places in the country. Mountain View sees an average rainfall total of 240 inches. But that pales in comparison to Mt. Waialeale, which is the rainiest place on earth with an amazing 460 inches per year.
Baranof Island, Alaska. Alaska's panhandle island — the 10 largest in the U.S. — is home to Little Port Walter, which records an average of 237 inches of precipitation (rain, snow, etc.) each year.
Western Washington and northern Oregon. This region of the country is home to the top six rainiest areas in the continuous U.S. (Aberdeen Reservoir, Forks, and Mount Rainier in Washington; and Laurel Mountain, North Fork Nehalem Park, and Orford in Oregon), each of which averages over 117 inches of rainfall annually.
Upper Vermont and New Hampshire. There are two mountains in these states that are extremely wet — Mount Washington in New Hampshire, which sees 201 days of rain or snow annually; and Mount Mansfield in Vermont, which sees precipitation on 204 days out of the year.
Upstate New York. There are two large cities in upstate New York which see 167 days of snow or rain on average during a given year. Over a quarter of a million people live in Buffalo, while Rochester is home to more than 200,000 residents.
Southeastern U.S. The six biggest cities which see the most rain each year are all located in the southeast part of America: New Orleans (62.7 inches of rain per year), Miami (61.9 inches), Birmingham (53.7 inches), Memphis (also 53.7 inches), Jacksonville (52.4 inches), and Orlando (50.7 inches).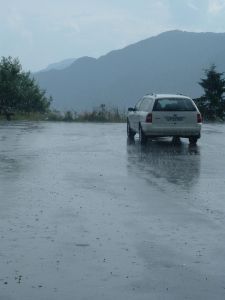 Now that America's wet areas have been identified, what are the best gutters for people living in these regions? Here are five qualities that should describe gutters on homes in exceptionally wet climates:
1. Larger gutters. The standard width of residential gutters is around five inches. So homeowners in wet areas should strongly consider six-inch (or even seven-inch) wide gutters to move more water at one time.
2. Larger downspouts. Many typical downspouts are only three inches in diameter. Like gutters, downspout size should increase as well — perhaps to four or even five inches across.
3. More downspouts. If it's practical, it may be wise to install one or more additional downspouts in your gutter system. Just be sure to slope the gutters accordingly.
4. Steeper gutters. Generally, gutters tend to slope about a quarter inch every 10 feet. In order to move water through the gutters more quickly and prevent overspill, it might be wise to change the slope to as much as a half-inch per 10 feet.
5. Stronger gutter fasteners. If your gutters are going to be larger, the fasteners will have to be stronger to hold them (and the additional water that will fill them). Use sturdier hangers or screws and more of them when installing these gutters.