The concept of gutters is pretty simple. These troughs gather runoff water from your roof and channel it away from your home's foundation. But when you start asking questions about gutters and how to install and maintain them, you sometimes get different responses from various sources.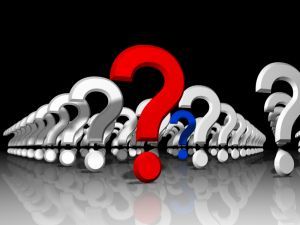 With this in mind, the eight most common gutter-related questions were posed to various experts across North America. Here's what they had to say in response.
1. Question: How often should you clean your gutters? Really?
Answer: At least twice each year. Really. Mike Carey, the owner of The Gutter Man of Tampa Bay LLC in Clearwater, Florida, agrees with the conventional wisdom. In fact, he adds, " If you have pine trees, they may need to be cleaned quarterly, because pines shed a lot."
2. Question: If you don't do it yourself, how much should you expect to pay someone else to clean your gutters?
Answer: It depends on the size of your home and how much guttering it has. Home improvement blogger Mark Stevens says that a "small one-story home with a relatively flat roof and a minimal amount of guttering will probably cost under $75." However, if your home has more than one story or steep roofs, it may "cost around $200; or if it's a very large home, upwards of $500."
3. Question: How long should my aluminum gutters last?
Answer: A couple of decades or more. Mike Rogers, the owner of American Custom Guttering, Inc. in Odessa, Florida, says that you can get "at least 20 years out of aluminum gutters. If they're well-maintained, they can last up to 30 or 40 years."
4. Question: What are some common gutter materials other than aluminum?
Answer: The two most frequently-chosen are copper and galvanized steel. The professionals at B&B Exteriors in Alexandria, Virginia note that copper, which is virtually indestructible but more expensive, "is more of an elite guttering material offering an extremely aesthetic accent to an upscale or classic home." Galvanized steel is comparable in price to aluminum, but these gutters do "eventually succumb to the ravages of rust."
5. Question: What are seamless gutters and what are their benefits?
Answer: Like the name implies, seamless gutters consist of one continuous piece of guttering (per home side) that is made by a gutter machine brought to the job site. As the folks at GutterSupply.com in Lake Bluff, Illinois report, seamless gutter sections do not have the weak points which "may allow water to leak out of the gutter and drip down, possibly damaging the siding, splashing dirt onto the house, or eroding your yard."
6. Question: How many downspouts should you have on your home?
Answer: Downspouts are where the runoff water flows so that it can empty into your yard. The people of Gutter Solutions in Pittsboro, North Carolina recommend "that you have one downspout for every 20' – 30' of gutter."
7. Question: How much should your gutter slope toward the downspouts?
Answer: Joseph Truini of This Old House magazine suggests that gutters should slope about a half inch for every ten feet in length. But for gutter runs greater than 40 feet, Truini says that it's "best to pitch the gutter down from the middle to a downspout at each end."
8. Question: How far apart should gutter hangers be spaced?
Answer: In general, gutter hangers should be no closer than 36″ apart. However, the people of City Sheet Metal Co., Ltd. in Winnipeg, Canada, note that in "areas where ice and snow are long lasting, hanger spacing should be reduced to 18″."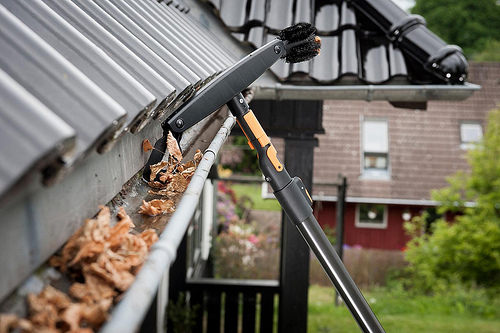 Image credit: Gutter Cleaning Tampa