As a homeowner, you probably spend an inordinate amount of time choosing paint colors, carpeting, and furniture for your home's interior. But you may not realize that you may have to also put some thought into which type of rain gutters you will put up outside your home.
Here are some suggestions to assist you in picking out the gutters that are best for you.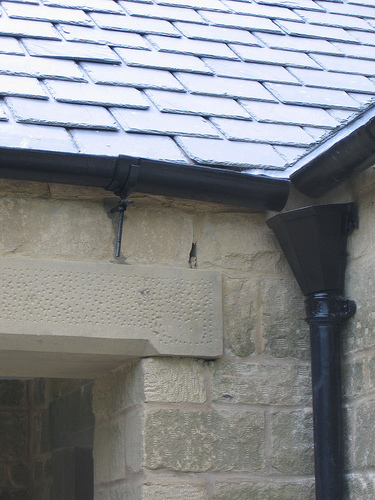 Check your codes and deeds. Before you put up a single gutter, it is imperative that you make sure that you're not breaking any laws or regulations. Determine if your neighborhood or home is governed by building codes, deed restrictions, or homeowners' association rules. If your home is designated to be "historic," there may be other regulations which restrict your gutter choices. The last thing you want to do is to have to rip down perfectly good gutters because you aren't permitted to have them on your home.
Figure out how much rain your area gets. You don't necessarily have to find out the precise annual rainfall of your region. In fact, what's more important is how much rain falls during a typical storm (or even in a heavy storm), because that's more relevant to how much water your gutters need to handle. The higher the amount of rain in a short time frame, the larger your gutter sections should be so that water doesn't spill over onto the ground.
Weigh the importance of curb appeal. If you're only picking out gutters for a back yard, then appearance is probably unimportant. But if you are concerned about how your new gutters will look, be aware that they are available in different colors or shapes. The standard "K-style" gutters are made to resemble interior crown molding, so they tend to complement many different home facades. But half-round gutters may provide a more unique look, if that's you're preference. And gutters can be painted or finished in a wide variety of colors to suit the look of your home exterior.
Decide who will install them. Do you have the desire and the know-how to put up these new gutters yourself? Or would you rather spend a little more money to have a professional contractor install them for you? Either choice is fine, but it helps to know before you pick out new gutters, because it may affect your decision.
Figure out which materials will be used. The most common preference is aluminum, because it is lightweight yet sturdy and quite affordable. Vinyl is inexpensive and comes in more colors, but will not hold up to sun or severe weather very well. Galvanized steel is cheaper than aluminum, but is subject to the effects of rust. Copper is high on curb appeal and durability, but its finish can fade if not properly treated. Stainless steel is tops in strength, but it will cost you substantially more money.
Consider gutter guards. These are products that help keep debris out of your gutters so you don't have to clean them as often (or ever). Store-bought gutter guards are easy to put on, but they won't last more than a few years. Professionally-installed gutter guards are more durable, but require a bit more investment.
Selecting the proper gutters is important in protecting your foundation from water damage caused by overflowing gutters. After all, no one wants to have to think about choosing a foundation repair company.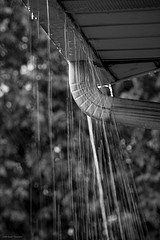 Photo credits: Bryn Pinzgauer, Sean Thornton